---
New Seasonal Products
Vegan Chocolate Truffles

Let your vegan customers indulge their chocolate cravings. Velvety smooth, plant-based chocolate truffles in two sustainably produced, vegan friendly flavors: bright, red raspberry for when you need a pop of color and luscious dark chocolate for when you need to soothe your soul. Handcrafted coconut milk truffles in an acetate box and decorative sleeve. 12 per case.
Vegan Chocolate Truffle 16pc Collection  Rich and decadent chocolate truffles made with plant-based coconut milk — a vegan-friendly treat to indulge your cravings. This 16 piece gift box includes two luscious flavors: bright, red raspberry and luscious dark chocolate. Soothe your soul with these non-dairy, sustainably produced vegan truffles.
Limited edition Total piece count: 16; 8 Dark chocolate truffles; 8 Dark chocolate raspberry truffles.54% cocoa content dark chocolate. Made with organic coconut cream. Vegan friendly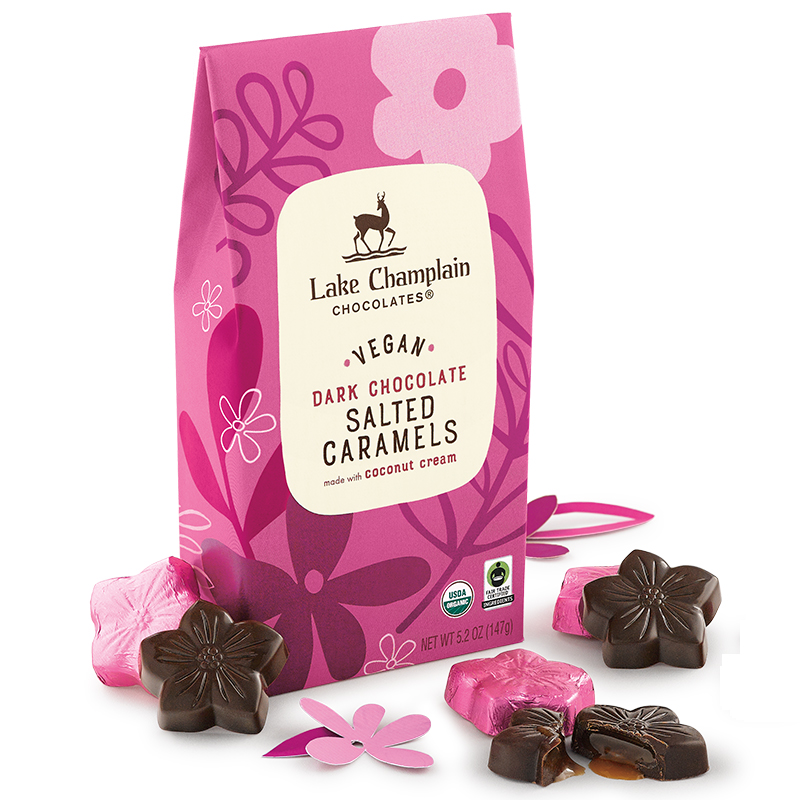 On-trend plant-based, vegan-friendly treats, like these new Salted Caramel Flowers!  Luscious golden caramel, made with coconut cream, tucked inside organic dark chocolate make a decadent non-dairy treat your customers will love! Individually wrapped chocolate flowers (pink foil) in a tree-free box — innovative packaging made from sustainably-sourced bagasse, the pulpy by-product of the sugar making process that is printed with eco-friendly vegetable inks! 12 per case.


---
Crunchy Peanut Butter Tree
Behold the ultimate holiday treat -- creamy peanut butter, packed with salted peanuts and crisp rice, covered in sweet milk chocolate. Handcrafted with clean, simple ingredients, this scrumptious peanut butter confection is destined to be a huge seller! Each oversized peanut butter tree is individually packaged in a decorative holiday flow-wrap and is perfect for tucking in a stocking. 8 per case. 
 


---
 Peppermint Organic Snack Bites
Snack. Relax, Repeat! For those days when your customers need a refreshing boost. Bold, semi-sweet dark chocolate infused with peppermint oil and packed with crunchy quinoa. It's the instant pick-me-up they need to power through the day. Unwrapped chocolates in a resealable pouch. 12 per case.




---
Dark Chocolate Peanut Butter
Take a trip to the darkside. Dark chocolate lovers will rejoice with this decadent peanut butter chocolate confection. Fair trade dark chocolate, layered with peanut butter, then topped with even more rich, dark chocolate.  5 pieces of dark chocolate and peanut butter in an acetate box with a decorative sleeve.  12 per case.